Fujitsu Uvance: Where technology meets sustainability
7 minute read
While many business leaders have tuned into the benefits of Sustainability Transformation, one Fujitsu executive notes that the progress towards achieving it varies greatly from company to company.

We sat down with Corporate Executive Officer Yoshinami Takahashi, who spearheads the Fujitsu Uvance business, to share his thoughts on how he plans to harness technology to support customers in driving sustainable growth.

Global challenges facing sustainability efforts
"My concern is that the world is moving towards 'de-globalization' in the face of mounting global crises," said Yoshinami Takahashi, Fujitsu Limited Corporate Executive Officer SEVP in charge of the Fujitsu Uvance business.

"We're seeing that each country and region is trying to deal with these crises by strengthening economic cooperation within their regions."

Yoshinami joined Fujitsu after working at Sony and Microsoft Japan. He is currently responsible for advancing digital and sustainability innovations as the head of the Global Business Solutions Business Group.

He says the challenges company leaders face, including global warming and natural disasters, are structural problems that cannot be easily solved. But at the same time, he says that leaders also have a responsibility to promote globalization in a world that is becoming more segmented.

"Governments, companies, and individuals must work together to build a resilient ecosystem if we ever hope to prevent crises from deepening. And that is where Sustainability Transformation comes into play."

Analysts estimate that the global market for Sustainability Transformation solutions could expand to more than 80 trillion yen, or 54 billion US dollars, by 2030. A 2022 survey conducted by Fujitsu and the Financial Times of 1,000 business and organization leaders found a significant gap between leaders' recognition of the importance of sustainability and the actions they're taking to achieve it. 57% of respondents say that they believe sustainability will be a top priority for their organization over the next five years.

But nearly half (48%) said they were worried that the technology they currently possess was not making enough progress to drive sustainability efforts. Only 6% of the respondents say they have experienced better business outcomes by focusing on both technology and sustainability.

The research also shows that many leaders still see Sustainability Transformation as only one part of their CSR activities and that many of them stopped short of formulating a vision or a goal.

Importance of Sustainability Transformation for Scope3
Yoshinami's view is that enabling manufacturers to calculate their Greenhouse Gas (GHG) emission levels across their entire supply chain—including Scope3 (*1) levels—is the key to reaching sustainability goals.

(*1) Indirect GHG emission such as transportation and disposal.

He says that visualization is vital to this effort.

"Fujitsu and Palantir have developed a data integration platform that creates a data stream from systems to simulate the minimization of GHG emissions across the ecosystem."

Yoshinami added that he has been advising companies seeking to visualize and centralize data from their vendors and suppliers—and stressing that offerings from Fujitsu Uvance help bring their transformation to life.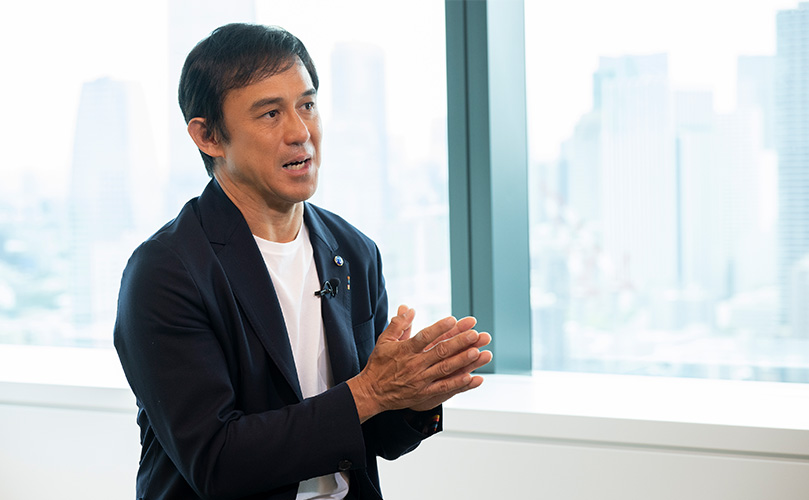 Yoshinami Takahashi stresses the importance of Sustainability Transformation
"Fujitsu Uvance is an epic mission to build an ecosystem that connects companies and people from different countries. Business opportunities are found where different industries and businesses are connected," Yoshinami says. "We want our customers to experience Sustainability Transformation, while leveraging Fujitsu technology to get the best benefit for their businesses."
Cross-industry approach to achieving sustainability goals
Yoshinami cites four customers that took advantage of the Fujitsu Uvance cross-industry approach.
Digital Collaboration for fleet optimization (WBCSD)
Fujitsu conducted a trial to optimize charging schedules for commercial vehicles to see how the effort could cut GHG. The trial was a collaboration with Dutch consulting company Arcadis and British energy company National Grid, demonstrating that data sharing across industries can help reduce CO2 from transportation.

Fujitsu technology simulated and optimized the routes of delivery vehicles and guided EVs to the most appropriate charging locations at optimal times. The results proved that proactive measures could potentially reduce CO2 emissions by as much as 15%. The project is part of the World Business Council for Sustainable Development.

Platform for environmentally valuable recycled materials (Teijin Corporation)
Fujitsu started a joint project with Teijin Corporation in 2022.
Using Teijin's calculation method and Fujitsu's blockchain technology, the project aims to build a platform to promote the use of recycled materials.

Optimizing store management with AI Demand Forecasting Service (TORIDOLL Holdings Corporation)
Restaurant chain operator TORIDOLL Holdings Corporation implemented Fujitsu's AI demand forecasting service, allowing them to accurately predict customer numbers and sales figures each day at all stores based on weather data and the company's POS data.

The system also helped improve allocation of store staff, optimize the number of dishes to be served, and even determine the most efficient air conditioning settings. This contributed to the reduction of food loss and better energy management.

Joint project to revitalize the environmental value trading ecosystem (IHI Corporation)
IHI Corporation and Fujitsu launched a joint project in 2022 to create a platform that supports environmental value transactions. Using Fujitsu blockchain technology, the system converts CO2 emissions reductions into tokens, by calculating data collected via IHI's IoT platform.
Yoshinami believes that connecting 'blank spaces' in between businesses with digital data enhances values and lead to finding new answer to solving societal issues.

"Fujitsu has cutting-edge technologies such as ConnectionChain, which can aggregate multiple blockchains, computing power such as supercomputer Fugaku co-developed with RIKEN, and quantum technology," he points out.

"We aim to work alongside our global customers, using the power of technology and data to create a flexible, optimized ecosystem that brings together different businesses and industries."

Supporting Sustainability Transformation with Fujitsu Uvance
Combining the words "Universal" and "Advance," Uvance is a value-added set of business solutions that also address societal issues. It consists of seven key focus areas underpinned by five key technologies to support them.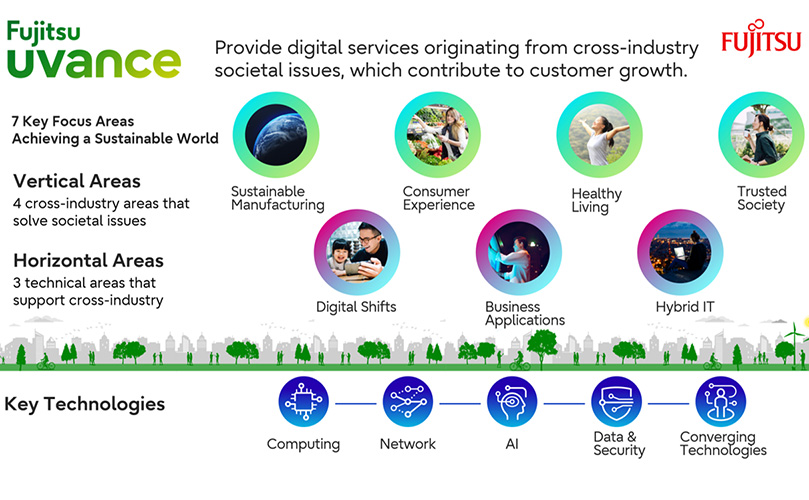 Chart showing 7 Key Focus Areas where Fujitsu Uvance contributes to achieve a sustainable society: Sustainable Manufacturing, Consumer Experience, Healthy Living, Trusted Society, Digital Shifts, Business Applications/ Hybrid IT
Yoshinami Takahashi
Corporate Executive Officer SEVP/ Head of Global Business Solutions, Fujitsu
Yoshinami Takahashi joined Sony Corporation in 1987 and was involved in overseas business in the consumer division, including postings in North America and Europe, and served as an officer at overseas bases. He joined Microsoft Japan Corporation in 2014, leading the cloud market, partner collaboration, and DX support for enterprise customers. Since June 2021, he has been leading the Fujitsu Uvance business as Managing Executive Officer.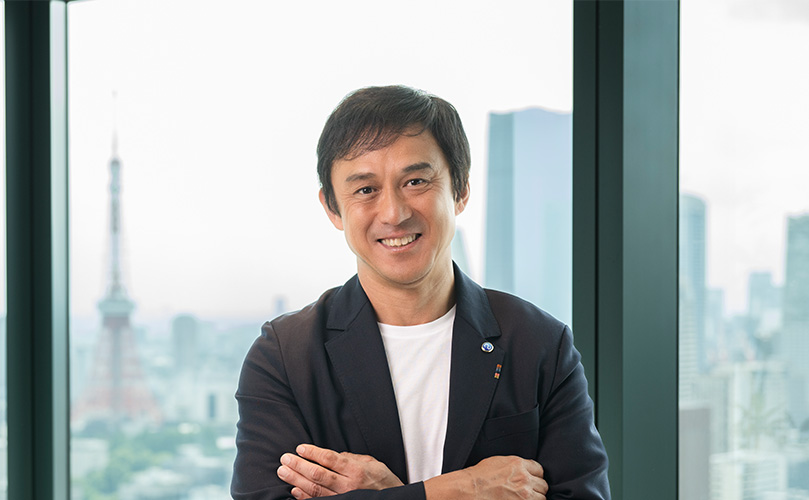 Fujitsu Uvance Research Report
Fujitsu and the Financial Times jointly conducted a survey of 1,000 business leaders in 15 countries around the world. Access the report below to find tips for resolving "sustainability gaps" in your organization.