Sustainability management
Yumiko Kajiwara
Corporate Executive Officer EVP, CSuO
Message from the CSuO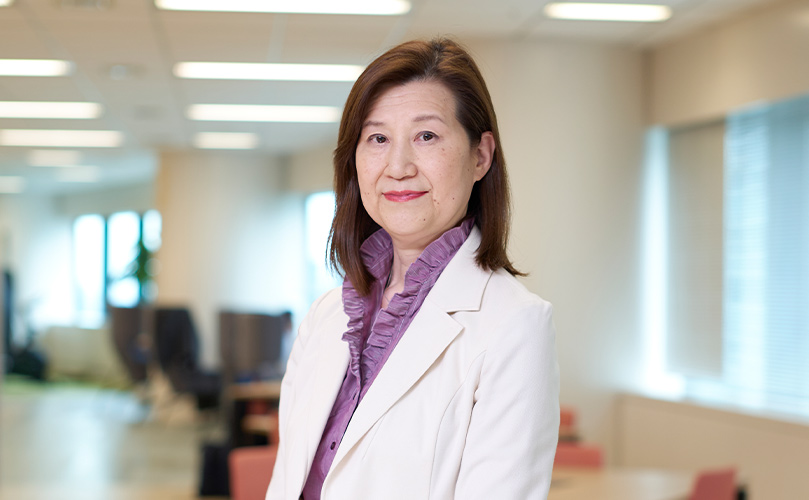 We will encourage all employees to take ownership of sustainability and accelerate the sustainability transformation of the Fujitsu Group and its customers.
Materiality that reflects Fujitsu's unique character
In 2020, the Fujitsu Group revamped the Fujitsu Way centered on Our Purpose. Since then, we have been promoting GRB (Global Responsible Business) and initiatives in non-financial areas guided by the Sustainability Management Committee. Through these initiatives, the Group has fulfilled its responsibilities as a global company, while employees have experienced a stronger sense of belonging and job satisfaction.

We have been actively promoting sustainability management through these measures, and to make sustainability even more central to business growth in the future—while making use of our activities to date—we also defined the Group's material issues ("Materiality"). In the process, we conducted surveys and interviews with a wide range of stakeholders, including customers, institutional investors, and employees. Looking ahead to the society of 2030, we sought out the intersections between the issues that the Group should focus on to achieve its own sustainable growth and the role that stakeholders expect the Group to play. In addition, we emphasized the perspective of Fujitsu's unique character, reflecting the discussions held at management level.

I think that defining our Materiality has clarified key issues that we need to focus on and has made the path to realizing Our Purpose clearer for employees. In addition, we have had feedback from our external directors and auditors indicating the need for each employee to take ownership of Materiality, so as we promote initiatives across the Company, we will take measures to foster their awareness of how Materiality relates closely to their work.

Sharing a recognition of issues with customers
Taking ownership of sustainability and the link between sustainability and business are issues that we have in common with our customers. This means that our own in-house practices can serve as a reference model for making proposals to customers. I myself have experienced an increase in opportunities to visit customers, together with business producers (BPs), to talk about the Fujitsu Group's implementation of know-how for data-driven management in the area of sustainability, including initiatives to reduce greenhouse gas (GHG) emissions and the correlation between financial and non-financial aspects of business. The knowledge of our BPs regarding sustainability is increasing, along with their ability to understand and empathize with customers' business issues.

As a company that conducts business globally, and as a partner working together with our customers, we will accelerate our initiatives to drive sustainability transformations.

Yumiko Kajiwara
Corporate Executive Officer
EVP, CSuO
* Sustainability