Hidenori Furuta
Representative Director
COO

Interview with the COO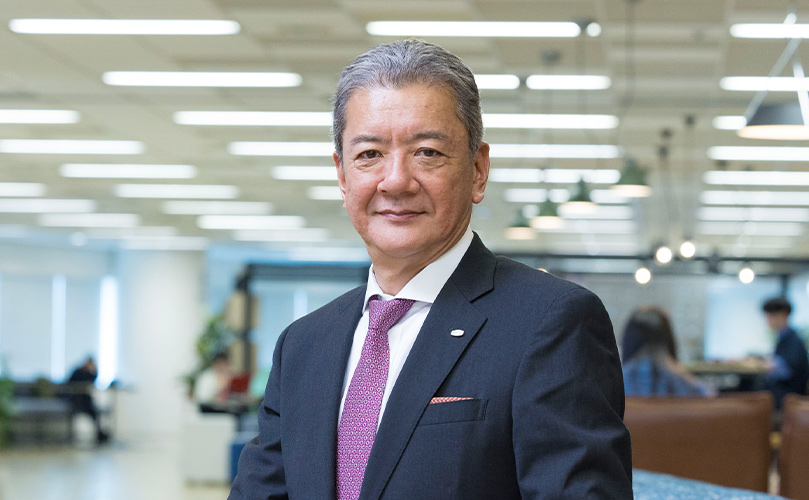 We asked the COO about the key points of the regional strategy, which aims to transform the business foundation in Regions (International), and the assumptions underlying the growth scenario for Fujitsu Uvance, all in line with reaching the goals set in the medium-term plan.
Q. What will be the biggest challenges to meeting the goals outlined in the medium-term plan?
A. The key to achieving our financial goals lies in our business model and portfolio strategy, with a focus on the growth of Fujitsu Uvance and transformation of service delivery. However, one of the biggest challenges will be the execution of the business model and portfolio strategy , particularly the regional strategy , and especially in Regions (International) .

To date, Regions (International) has relied on managed infrastructure services (MISs) for its revenue base, which involve the monitoring, operation, and maintenance of IT systems such as servers and networks. Meanwhile, the Fujitsu Group has positioned the expansion of digital services, centered on Fujitsu Uvance, as its management strategy. Accordingly, the medium-term plan sets forth a regional strategy of accelerating the shift toward a focus on service businesses known as business application services (BASs), replacing MISs.

MIS business faces intense competition outside Japan, and it is difficult to differentiate ourselves from Indian vendors, which are highly cost-competitive. This situation is not new, and the transition from MISs to BASs in Regions (International) has been a strategic issue for the Fujitsu Group over the past 10 years. Our regional strategy under the medium-term plan reflects our determination to move out of this untenable situation.

Q. How do you plan to address long-standing issues that have not been resolved? What will you change, compared to the past?
A. As our reference model, let us look at the business portfolio transformation in the Americas. In this region, MISs were previously the core business. However, in fiscal 2020, we implemented a business portfolio transformation focused on service operations, by withdrawing from product-based businesses centered on hardware sales, equipment for the retail industry, hosting, and maintenance services. As a result, we became profitable in fiscal 2021.

Partly because the scale of business in the Americas was small, we conducted a detailed analysis into the fundamental reasons why the MIS-to-BAS transition was not progressing as well as expected, and then identified our necessary actions. We will build on our experience in this region of executing a series of transformations such as withdrawing from the product business, concentrating resources on major strategic clients, and standardizing delivery, to accelerate the shift from MIS to BAS in Europe and Asia Pacific.

The changes we have made in the past were to the level of control and support our headquarters business groups provided to the regions. In fiscal 2022, we consolidated each region's solution development functions within the Global Business Solutions Group. From the perspective of Regions (International), it is essential to collaborate with the business groups to provide solutions to customers. In fiscal 2023, we will enhance this collaboration further and optimize resource allocation. Additionally, we are introducing a mechanism whereby small teams from the business groups will be dispatched to each region to address specific regional needs and to coordinate support from the business groups.

Q. As effects of restructuring, don't the financial targets for Regions (International) under the medium-term plan seem too low?
A. Even using the Americas as a reference model, we anticipate that it will take some time to carry out restructuring measures in Europe, which has a business scale approximately 10 times that of the Americas on a revenue basis, and Asia Pacific, which has a business scale approximately three times that of the Americas. Our assumption is that we will first proceed with restructuring and then aim for growth by providing high-value-added Service Solutions. With this in mind, we have set a target operating profit margin of 3.3% for the Regions (International) segment in fiscal 2025.

In Europe, some progress was achieved in fiscal 2022 by expanding sales of Fujitsu Uvance in Horizontal areas, particularly in Hybrid IT, Business Applications, and Digital Shifts. However, upon closer examination, we discovered that many of the projects had low profitability due to insufficient differentiation from other companies' services. In addition to the transition from MISs to BASs, we aim to find ways to maximize the added value of Fujitsu Uvance's offerings during the period of the medium-term plan. For example, we will restructure customer support systems and reskill personnel to meet the needs of growth areas.

Q. With its offerings in Vertical areas finally complete in fiscal 2023, will Fujitsu Uvance be able to gain customer acceptance and drive growth?
A. The Fujitsu Uvance growth scenario incorporates the concept of an ecosystem, which promotes relationship-building with customers through business. We believe that once one company recognizes the value of Fujitsu Uvance's offerings, we can then extend our customer base to include that company's business partners.

Let me give a concrete example. The Fujitsu Group and Teijin Limited, a major chemical firm that manufactures industrial products including high-performance fibers, composites, and electronic materials, have jointly developed a platform to collect and trace environmental impact information of recycled materials throughout the value chain. Approximately six months after the project's initiation, two German bicycle manufacturers decided to participate in the pilot project for this platform. Their aim is to achieve traceability and create value by managing and reducing greenhouse gas emissions from their business operations.

As this case demonstrates, initiatives such as reducing environmental impact cannot be accomplished by single companies acting alone. Thus, there are significant benefits to expanding the ecosystem, both for customers and for their business partners. By creating use cases of our services in fiscal 2023 and leveraging them in multiple business negotiations in and beyond fiscal 2024, we are confident that we can expand Fujitsu Uvance's customer base.

Q. What is the current status of your efforts to earn customers' trust, which is a prerequisite for business growth?
A. First and foremost, we would like to deeply apologize to all those who were affected by our system quality issues and information security incidents.

Following a major system failure in fiscal 2021, the Fujitsu Group reevaluated its IT governance framework and implemented measures to identify and address vulnerabilities via a thorough inspection of mission-critical systems. Additionally, we worked to strengthen global information security measures. However, while instituting these measures, further information security incidents and system quality issues occurred, which showed that we had not yet been able to sufficiently foresee and prepare for possible risks. In fiscal 2023, we appointed a CQO (Chief Quality Officer) in addition to the existing CISO (Chief Information Security Officer) . Our goal is to establish a more agile decision-making process and ensure swift responses. The Group is actively working on specific improvement measures to enhance system quality and information security management, with the aim of regaining customer trust.

Hidenori Furuta
Representative Director
COO